An awe inspiring presentation tells the story of the contributions of African American women who have overcome insurmountable obstacles to achieve an incredible level of success in their fields.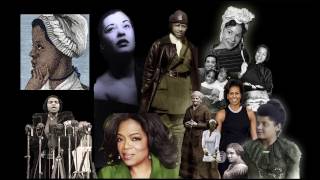 Through live narrative, music and multimedia, this performance details the work of those who devoted their lives in an effort to help others in the areas of social reform, politics, women's rights, education, the arts, literature and athletics.
Sojourner Truth, Wilma Rudolph, Zora Neal Hurston, Rosa Parks, Marian Anderson, Oprah Winfrey, Michelle Obama and others are featured.
PROGRAM INCLUDES:
LIVE Music
Live Narration
Video Projections

PROGRAM DURATION: 45 minutes
PROGRAM MATERIALS: Teaching resources