Every generation finds its voice. Music describes our experience, moves us, and helps us understand who we are.
Sometimes it even motivates us to action!
Let Freedom Sing is an interactive live multimedia performance that provides a unique mix of riveting archival film footage, and traditional and contemporary musical performance that celebrates the vitality of the unforgettable freedom songs that propelled the American Civil Rights Movement, and explores how these simple but stirring anthems had the power to sustain the movement during its darkest hours — from the Montgomery bus boycott to lunch counter sit-ins, from Birmingham to the march on Washington and to Selma — songs that were crucial in helping the civil rights activists as they faced down brutal aggression with dignity and non-violence.
Viewers are encouraged to sing along, clap your hands, and experience magic of the songs that protesters sang on picket lines, in mass meetings, in police wagons, and in jail cells, giving them the courage to challenge the status quo and the drive to keep fighting for equality in America. Viewers learn about the inspirational songs that evolved from slave chants, from the labor movement, and especially from the black church.
Let Freedom Sing Live!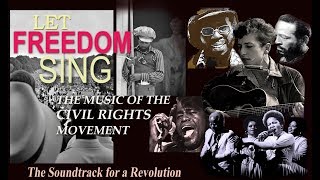 The program weaves together performances of such timeless songs as Wade in the Water, We Shall Overcome, People Get Ready, Blowin' in the Wind, and Respect Yourself. Viewers travel on an unforgettable journey through the music of Mahalia Jackson, Bob Dylan, The Staple Singers, Curtis Mayfield, James Brown, Marvin Gaye, and many others who provided a soundtrack for a revolution.
Praise for Let Freedom Sing 
"Thank you for bringing Let Freedom Sing to our campus. The singers were outstanding!
And the video footage and narration was quite moving as well.
Your invitation to the audience to clap and sing along made the performance
most engaging, meaningful, and entertaining."
                                                                        Andy A. Herrera
                                                                        Director of Educational Equity and Diversity Programs
                                                                    Penn State University – The Behrend College
PROGRAM INCLUDES:
LIVE Music
Live Narration
Video Projections

PROGRAM DURATION: 45 minutes
PROGRAM MATERIALS: Teaching Resources