Resolving conflicts peacefully – teaching respect – no bullying

Recent outbreaks of violence in our schools and worldwide have left teens, parents, and administrators searching for answers.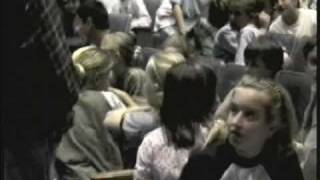 Getting Along Video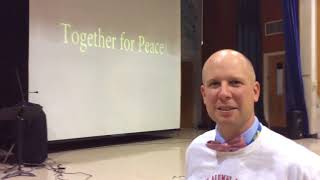 Principal Comments
This timely live interactive multimedia program helps youngsters identify why conflicts occur and provide the skills needed to resolve disputes peacefully. Viewers engage in informative live commentary, big screen video images, and inspiring songs. Professional teen experts give advice on important issues that concern today's youth. This upbeat program gives young audiences basic skills in conflict resolution, which include brainstorming solutions, listening and negotiation skills.
ANTI-BULLYING COMPONENT: Sometimes it is difficult for kids to know what is or is not bullying. Often, actions start out just being fun, but may at some point actually turn into bullying. We show youngsters how to identify what bullying is and how to avoid becoming a bully.
Praise for Getting Along!     "Your music, video, and narrative communicated exceptionally well to our students that non-violence was the way to go to resolve conflict. The positive comments from both students and staff about the successful program reaffirms that you message was received and hopefully will be implemented throughout the year. I highly endorse and recommend Getting Along to any school district to end bullying and have students resolve conflict in a non-violent manner."
Bruce Orsino, Principal Central Regional High School 
PROGRAM INCLUDES:
LIVE Music
Live Narration
Video Projections
TARGETED AGE GROUP: Ages 7+
PROGRAM DURATION: 45 Minutes
PROGRAM MATERIALS: Student Worksheets and teaching guides