Key Arts Productions partnered with Parkway Northwest High School for Peace and Social Justice in celebration of Peace Day.
The United Nations International Day of Peace is a day observed across the world on September 21  by NGOs, communities, individuals and governments.
Peace Day has grown to involve hundreds of millions of people across worldwide.  Week-long Peace Day observances take place in many cities across the world, including Philadelphia.
This year's Peace Day theme is "Together for Peace: Respect, Safety and Dignity for All."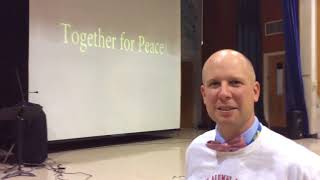 Joe Patterson and Key Arts cast members Nathan Harmon and Veronica Menyweather, presented "Getting Along" a live multimedia program that inspired Parkway students to promote world peace, while giving them useful skills in conflict resolution and respect.  Kids and teachers were singing along to moving songs.
The performance was part of a day long series of Peace Day workshops and activities ranging from humanitarian aid and service, the arts, projects for the environment, non-violence forums, to intercultural dialogues.
Key Arts also joined Parkway Northwest HS students, teachers, parents, and concerned citizens in a Peace Rally to promote peacemaking and social justice in front of the School District of Philadelphia building.
Peace Day provides a globally-shared date for all humanity to take part in activities that contribute to the creation of a more peaceful, compassionate, knowledgeable and unified world.